By Texas patent lawyer, Vincent Allen.
As of August 24, 2019, there are 12,083 registered patent agents and 35,331 registered patent lawyers.  Patent lawyers and patent agents are eligible to practice before the United States Patent & Trademark Office (USPTO). 3,508 registered Texas patent lawyers and agents call Texas home.  This is the second most of any state. Of these Texas patent lawyers and agents, 2,843 or 81% are patent lawyers, and 561 are Dallas patent lawyers. Based on these numbers, 8% of all patent lawyers are located in Texas. The state with the most patent lawyers and agents is California, with 8,598. New York has the third most, at 3,471.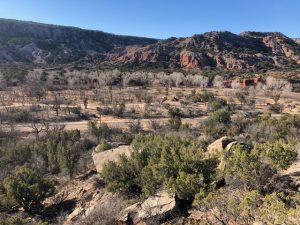 Palo Duro Canyon, Texas
What does it mean to be a registered patent lawyer or patent agent?
To become a registered patent lawyer, an attorney who is licensed to practice in at least one state must take the patent bar exam. This exam is officially called the Examination for Registration to Practice in Patent Cases Before the Patent and Trademark Office.
In my case, I took the Texas bar exam in July of 1999 to become an attorney licensed to practice law in Texas. Then in October of the same year, I took the patent bar exam. I found out that I had passed the Texas bar exam the day before I took the patent bar exam. I did not have my Texas law license in hand at the time I applied to take the patent bar exam.  So the USPTO first first registered me as a patent agent to practice patent prosecution. Once I had my Texas law license, I filed a request with the USPTO to change my status from patent agent to patent lawyer.
Why is a separate exam required to become a registered patent lawyer or patent agent?
A separate patent bar exam is required to become registered.  The USPTO implemented this requirement to ensure that practitioners have both the necessary technical background and a working knowledge of the unique requirements of patent prosecution. The USPTO's Manual of Patent Examining Procedure (MPEP), which is available during the exam, is a book of rules and procedures that is about four inches thick. Although the exam is open book, the time for taking the exam is limited and it is impossible to look up every question in the time allotted. So to pass the exam, much studying of the intricacies of patent prosecution is required. The annual passage rate for the exam since 2013 has been less than fifty percent.
What are the requirements to sit for the patent bar exam?
The USPTO has implemented certain rules as to who can sit for the patent bar exam so that clients can have some confidence that the patent lawyer has the technical background needed. This does not mean that every patent lawyer has experience in all technical areas, but it does require that the patent lawyer have a basic foundation in science.
Most applicants for the patent bar exam satisfy the requirements with a bachelor's degree in an approved science or engineering field. Some of the more common approved degrees are electrical engineering, computer science, chemical engineering, and mechanical engineering. You can find a list of all approved degrees here.
The USPTO will also approve an applicant without an approved degree, provided the applicant has taken certain minimum coursework requirements. There are four different options for satisfying the minimum coursework requirements. For example, taking twenty-four semester hours of physics classes for physics majors will satisfy the coursework requirements. Alternatively, the requirements can be satisfied with thirty-two semester hours in a combination consisting of eight semester hours of chemistry or physics, and twenty-four semester hours in biology, botany, microbiology, or molecular biology. More details on these and other options can be found here.
If you need an experienced, registered Texas patent lawyer to assist with filing a patent application or if you have other intellectual property law issues, give Vincent Allen a call at +1-972-367-2001 or send an email to allen@caglaw.com.